Accident
feed article
Today the European Commission is taking action to promote Occupational Safety and Health (OSH) in the EU.
Published : Mon, 12 Dec 2016 Today the Commission set out a range of advanced safety measures that could be fitted to vehicles in the future and have the potential to save lives on the roads. These measures will be examin...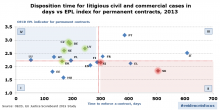 Labour law is the body of rules which regulate the relationships between workers, employers, trade unions, employers' associations and the state. Its aims are manifold, ranging from ensuring workplace protection against accidents and disability to protect...