Unemployment and inactivity of young people – do we see progress and the right policy responses?
(From ec.europa.eu)
This 'Evidence in focus' on the 2017 Joint Employment Report, adopted on 3 March 2017 by the EPSCO Council, and its Scoreboard of Key Employment and Social Indicators looks at policy efforts to address challenges for young people, including unemployment and inactivity.
The youth unemployment rate and the rate of 'young people neither in employment, education or training' (NEET), as part of the Scoreboard, show a continued decline since 2014. However, for some Member States, unemployment and NEET rates are still very high.
The youth unemployment rate, at 18,7 % in 2016, decreased from a peak of almost 24% in 2013. It is still 2.8 pps higher than it was in 2008, prior to the economic crisis. Youth unemployment varies widely across Member States, though differences between countries have decreased since 2014. Two Member States have levels above 40% (Spain, Greece) despite decreases over the last year. 
Figure 1: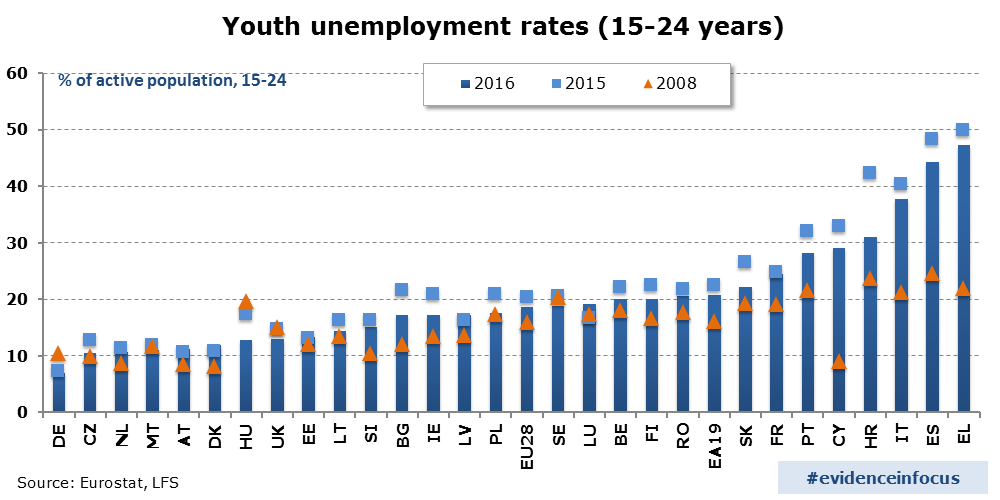 In total in the EU, 6.3 million young people (11.5% of those aged 15-24) were neither in employment, education or training (NEET) in 2016. This number has declined substantially compared to its peak in 2012 and is now just slighty above the 2008 level. However, high NEET rates above 15 % are still recorded in several countries (Bulgaria, Croatia, Cyprus, Greece, Italy, Romania). The reduction in the NEET rate in 2016 was due to a reduction in the proportion of unemployed NEETs (by 0.5 pps), while the proportion of inactive NEETs increased slighly (by 0.1 pp) and are now 6.2% (adjust over half of the NEET population), even if in many countries enrolment in education has increased sometimes significantly. 
Figure 2: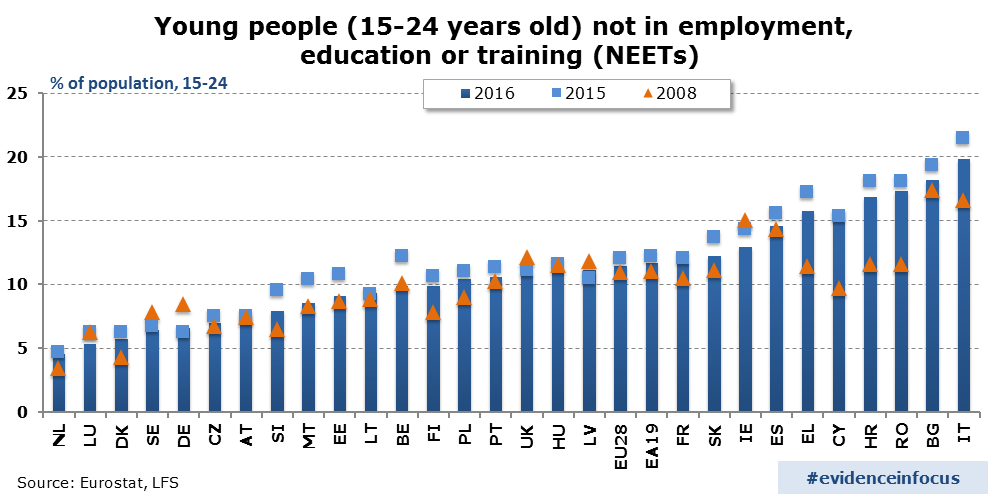 The Joint Employment Report (JER) highlights how Member States accelerated their reform efforts to improve the situation of young people in 2015 and 2016, in particular by improving school to work transitions. Among these, the Youth Guarantee (see Communication: The Youth Guarantee and Youth Employment Initiative three years on) has been a key driver, promoting effective action by Member States, improving coordination among different actors, breaking down silos and building partnerships across policy areas, and facilitating structural reform and innovation in policy design. Ten million young people have benefited from the Youth Guarantee so far.
Important and related reforms also include:
Outreach activities targeting young people who are not registered with the Public Employment Service (PES) has been key. Two-thirds of PES are currently engaged in outreach work (e.g. Sweden, Greece and Spain).
Taylor made active labour market policies, such as wage and recruitment subsidies (e.g. Croatia, Estonia, Cyprus, France) and changes in labour legislation to address labour market segmentation which hit young people disproprtionally ( e.g. Lithuania, Poland).
Apprenticeship reforms and the better regulation of traineeships to align young people's skills with labour market needs and strengthen business community engagement.
Policies to tackle low proficiency in basic skills and/or make education more inclusive (e.g. Czech Republic, Greece, Poland, Portugal, and Slovakia).
Despite this encouraging progress, continuing structural reforms and upscaling measures will be necessary - especially for low-skilled young people and those facing multiple barriers to enter the labour market. Further efforts are necessary to effectively reach out to all young people who are neither in employment, education nor training.
More information is available on the Joint Employment Report and its Scoreboard.
The views expressed in this article are those of the authors and do not necessarily reflect the views of the European Commission.
Editor's note: this article is part of a regular series called 'Evidence in focus', which will put the spotlight on key findings from past and on-going research at DG EMPL.